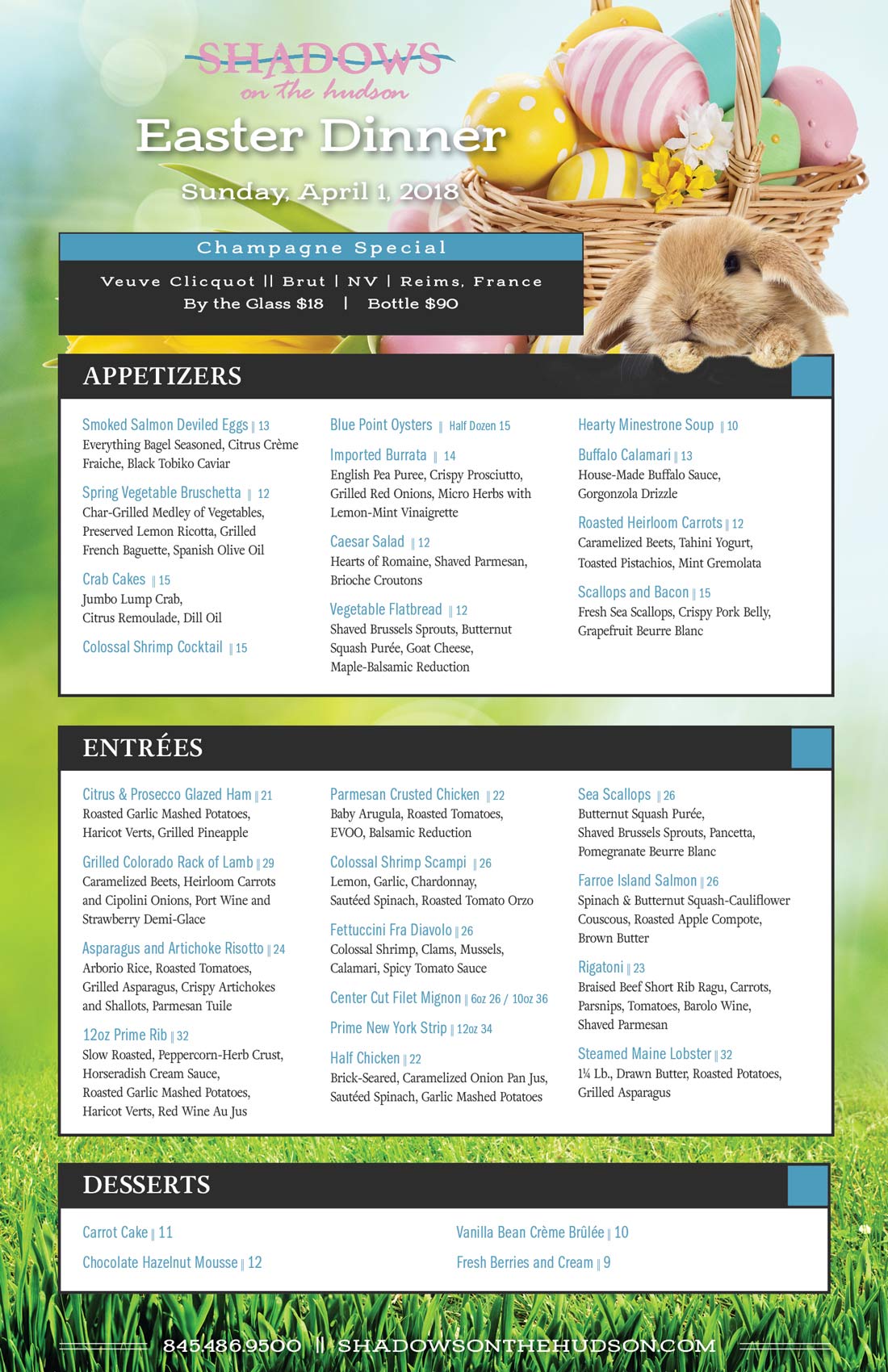 Join us this Easter for a beautiful Sunday Dinner!
You and your family will enjoy fantastic dishes prepared by our executive chef with an assortment of appetizer specials. Complete your Easter diner with a delectable dessert hand prepared by our in-house pastry team.
Call us at 845.486.9500 to reserve your table today!
Please bring your own high chair or booster seats. We only have a limited supply.
---
Appetizers
Smoked Salmon Deviled Eggs || 13
Everything Bagel Seasoned, Citrus Crème Fraiche, Black Tobiko Caviar
Spring Vegetable Bruschetta  ||  12
Char-Grilled Medley of Vegetables, Preserved Lemon Ricotta, Grilled French Baguette, Spanish Olive Oil
Crab Cakes  || 15
Jumbo Lump Crab, Citrus Remoulade, Dill Oil
Colossal Shrimp Cocktail  || 15
Blue Point Oysters  ||  Half Dozen 15
Imported Burrata  ||  14
English Pea Puree, Crispy Prosciutto, Grilled Red Onions, Micro Herbs with Lemon-Mint Vinaigrette
Caesar Salad  || 12
Hearts of Romaine, Shaved Parmesan, Brioche Croutons
Vegetable Flatbread  || 12
Shaved Brussels Sprouts, Butternut Squash Purée, Goat Cheese, Maple-Balsamic Reduction
Hearty Minestrone Soup  || 10
Buffalo Calamari || 13
House-Made Buffalo Sauce, Gorgonzola Drizzle
Roasted Heirloom Carrots || 12
Caramelized Beets, Tahini Yogurt, Toasted Pistachios, Mint Gremolata
Scallops and Bacon || 15
Fresh Sea Scallops, Crispy Pork Belly, Grapefruit Beurre Blanc
Entrées
Citrus & Prosecco Glazed Ham || 21
Roasted Garlic Mashed Potatoes, Haricot Verts, Grilled Pineapple
Grilled Colorado Rack of Lamb || 29
Caramelized Beets, Heirloom Carrots and Cipolini Onions, Port Wine and Strawberry Demi-Glace
Asparagus and Artichoke Risotto || 24
Arborio Rice, Roasted Tomatoes, Grilled Asparagus, Crispy Artichokes and Shallots, Parmesan Tuile
12oz Prime Rib || 32
Slow Roasted, Peppercorn-Herb Crust, Horseradish Cream Sauce, Roasted Garlic Mashed Potatoes, Haricot Verts, Red Wine Au Jus
Parmesan Crusted Chicken  || 22
Baby Arugula, Roasted Tomatoes, EVOO, Balsamic Reduction
Colossal Shrimp Scampi  || 26
Lemon, Garlic, Chardonnay, Sautéed Spinach, Roasted Tomato Orzo
Fettuccini Fra Diavolo || 26
Colossal Shrimp, Clams, Mussels, Calamari, Spicy Tomato Sauce
Center Cut Filet Mignon || 6oz 26 / 10oz 36
Prime New York Strip || 12oz 34
Half Chicken || 22
Brick-Seared, Caramelized Onion Pan Jus, Sautéed Spinach, Garlic Mashed Potatoes
Sea Scallops  || 26
Butternut Squash Purée, Shaved Brussels Sprouts, Pancetta, Pomegranate Beurre Blanc
Farroe Island Salmon || 26
Spinach & Butternut Squash-Cauliflower Couscous, Roasted Apple Compote, Brown Butter
Rigatoni || 23
Braised Beef Short Rib Ragu, Carrots, Parsnips, Tomatoes, Barolo Wine, Shaved Parmesan
Steamed Maine Lobster || 32
1¼ Lb., Drawn Butter, Roasted Potatoes, Grilled Asparagus
Desserts
Carrot Cake || 11
Chocolate Hazelnut Mousse || 12
Vanilla Bean Crème Brûlée || 10
Fresh Berries and Cream || 9