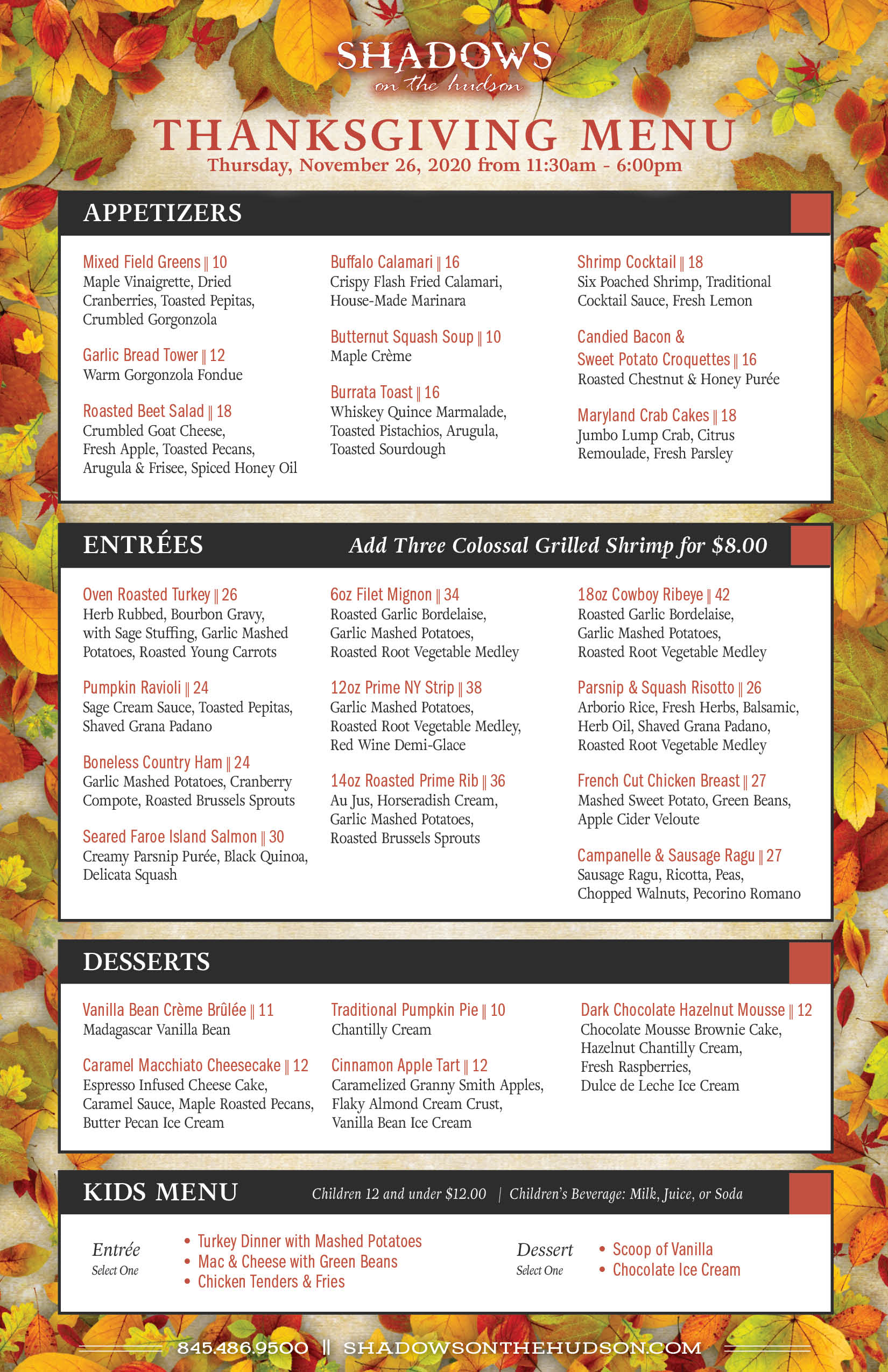 Thanksgiving Dinner
November 26, 2020 @ 11:30 am

-

6:00 pm
Treat your family with 3 delicious ways to celebrate Thanksgiving this year!
Dine at Shadows on the Hudson
Celebrate Thanksgiving overlooking the Hudson River Thursday, November 26th from 11:30am – 6:00pm. We are offering a gourmet a la carte menu with traditional favorites including oven roasted turkey, boneless country ham, and house favorite roasted parsnip & squash risotto.
Reservations are strongly recommended.
Call 845.486.9500 Today
Appetizers
Mixed Field Greens || 10
Maple Vinaigrette, Dried Cranberries, Toasted Pepitas, Crumbled Gorgonzola
Garlic Bread Tower || 12
Warm Gorgonzola Fondue
Roasted Beet Salad || 18
Crumbled Goat Cheese, Fresh Apple, Toasted Pecans, Arugula & Frisee, Spiced Honey Oil
Buffalo Calamari || 16
Crispy Flash Fried Calamari, House-Made Marinara
Butternut Squash Soup || 10
Maple Crème
Burrata Toast || 16
Whiskey Quince Marmalade, Toasted Pistachios, Arugula, Toasted Sourdough
Shrimp Cocktail || 18
Six Poached Shrimp, Traditional Cocktail Sauce, Fresh Lemon Candied Bacon &
Sweet Potato Croquettes || 16
Roasted Chestnut & Honey Purée
Maryland Crab Cakes || 18
Jumbo Lump Crab, Citrus Remoulade, Fresh Parsley
Entrées
Add Three Colossal Grilled Shrimp for $8.00
Oven Roasted Turkey || 26
Herb Rubbed, Bourbon Gravy, with Sage Stuffing, Garlic Mashed Potatoes, Roasted Young Carrots
Pumpkin Ravioli || 24
Sage Cream Sauce, Toasted Pepitas, Shaved Grana Padano
Boneless Country Ham || 24
Garlic Mashed Potatoes, Cranberry Compote, Roasted Brussels Sprouts
Seared Faroe Island Salmon || 30
Creamy Parsnip Purée, Black Quinoa, Delicata Squash
6oz Filet Mignon || 34
Roasted Garlic Bordelaise, Garlic Mashed Potatoes, Roasted Root Vegetable Medley
12oz Prime NY Strip || 38
Garlic Mashed Potatoes, Roasted Root Vegetable Medley, Red Wine Demi-Glace
14oz Roasted Prime Rib || 36
Au Jus, Horseradish Cream, Garlic Mashed Potatoes, Roasted Brussels Sprouts
18oz Cowboy Ribeye || 42
Roasted Garlic Bordelaise, Garlic Mashed Potatoes, Roasted Root Vegetable Medley
Parsnip & Squash Risotto || 26
Arborio Rice, Fresh Herbs, Balsamic, Herb Oil, Shaved Grana Padano, Roasted Root Vegetable Medley
French Cut Chicken Breast || 27
Mashed Sweet Potato, Green Beans, Apple Cider Veloute
Campanelle & Sausage Ragu || 27
Sausage Ragu, Ricotta, Peas, Chopped Walnuts, Pecorino Romano
Desserts
Vanilla Bean Crème Brûlée || 11
Madagascar Vanilla Bean
Caramel Macchiato Cheesecake || 12
Espresso Infused Cheese Cake, Caramel Sauce, Maple Roasted Pecans, Butter Pecan Ice Cream
Traditional Pumpkin Pie || 10
Chantilly Cream
Cinnamon Apple Tart || 12
Caramelized Granny Smith Apples, Flaky Almond Cream Crust, Vanilla Bean Ice Cream
Dark Chocolate Hazelnut Mousse || 12
Chocolate Mousse Brownie Cake, Hazelnut Chantilly Cream, Fresh Raspberries, Dulce de Leche Ice Cream
Kids Menu
Children 12 and under $12.00 | Children's Beverage: Milk, Juice, or Soda
Entrée
Select One
• Turkey Dinner with Mashed Potatoes
• Mac & Cheese with Green Beans
• Chicken Tenders & Fries
Desserts
Select One
• Scoop of Vanilla
• Chocolate Ice Cream
---
Pre-Order your Thanksgiving Dinner To Go
Enjoy a stress free dinner at home with Shadows Thanksgiving To Go. We've prepared all your favorites fully cooked so they're ready to heat and serve. Order your meal ahead of time and pick them up Wednesday, November 25th between 2-6pm. Serves 8 to 10 people – $175 plus tax.
Order by Saturday, November 21.
Our Thanksgiving To Go Menu Includes
Oven Roasted Turkey
Rolls & Butter
Green Bean Casserole
Mashed Potatoes
Savory Herb Stuffing
Cranberry Sauce
Herb Gravy
Pumpkin Pie
---
Curbside Thanksgiving Meals
Last and certainly not least, we are offering curbside meals to go on Thanksgiving Day! Each meal for one will include oven roasted turkey with both white and dark meat, sage stuffing, green beans, garlic mashed potatoes, roasted young carrots, and pumpkin pie for dessert. All this for only $26 per meal!
Or call 845.486.9500