By David Nieves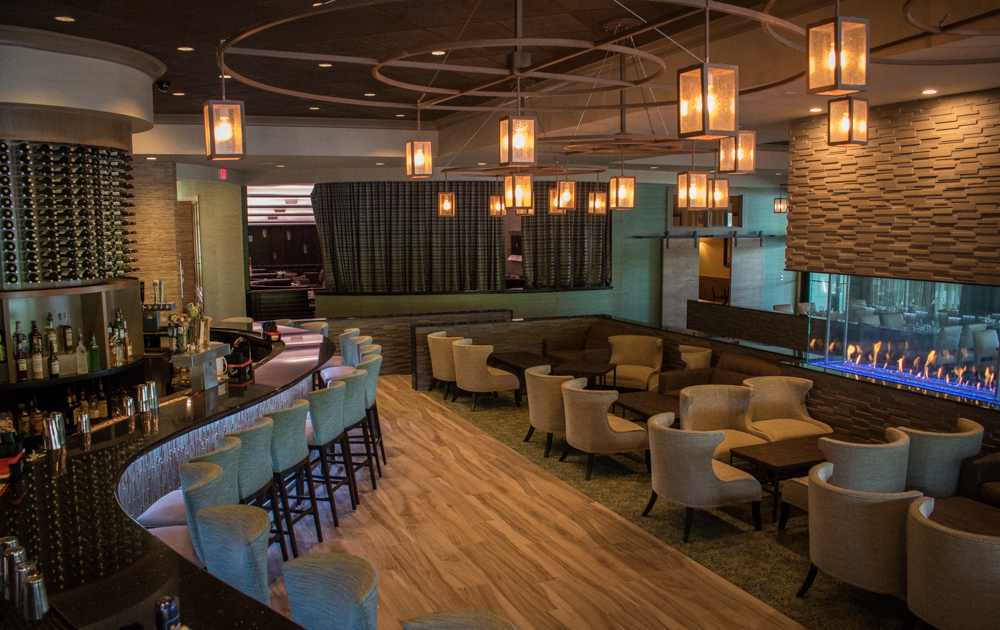 Shadows on the Hudson celebrating it's 10th anniversary as the Hudson Valley's premier waterfront dining restaurant. As a way to honor this achievement they briefly closed their doors to allow for extensive renovations which includes an all new lounge area, private dining room, temperature controlled wine cellar, and more. As you walk through the front doors you will instantly feel the transformation from old to new with two beautiful murals of the Mid-Hudson Bridge and Walkway over the Hudson. Along your route to the front desk, you will pass by more historical images showcasing their grand view of the Hudson River. Directly behind the front desk is Shadows' custom made temperature controlled wine cellar stocked with hundreds of new and old world wines.

An Inviting Bar and Lounge
The most significant change and new centerpiece of Shadows is a 4-sided blue stone glass fireplace located in the center of the restaurant. No matter where you sit, this floor to ceiling statement piece is sure to be visible. Separating the redesigned lounge from the main dining area, this stunning feature is a great backdrop for a photo op and perfect when you are dining during the winter season. The bar now features 16 draft beers with a number of local craft favorites along with a new Napa wine dispensing system. This argon gas preservation & dispensing system holds 8 wines from the reserve list allowing guests to order fine wines by the glass. The bar offers happy hour specials from 4-7pm on weekdays including $1 Oysters, as well as a number of seasonal hand-crafted signature cocktails.

Private NYC-style dining for up to 32 guests
If you previously dined at Shadows, you will remember the all-white semi-private "winter" room. This space was a guest favorite and needed a thoughtful new design to please all who have grown fond of its previous charm. The new space, simply called the private dining room, features sliding barn doors for total privacy; ideal for corporate meetings. Upon entering, you will instantly gaze upon a floor-to-ceiling red-brick fireplace complete with dueling stacks of firewood. This hand-laid wall is dramatically juxtaposed against the modern motif of Shadows' main dining area. Set beneath two rustic 48-inch chandeliers, the private dining room is complimented by walnut wood paneling and warmly lit sconces; establishing the ideal mood for your next meal or event.

Semi-Private Sunset Room
Nostalgic guests can continue to enjoy the warm elegance of the popular Sunset Room. While most of this room remains the same, important modifications have been made to better suit all of their guests. The entrance has been moved and now features a handicap accessible ramp; in fact every space at Shadows has been thoughtfully updated to make the entire restaurant handicap accessible. You can continue to reserve this space for larger events and thanks to their new layout, the sound blocking curtains can close off the space to make for a more intimate experience.

Al-Fresco Dining perched high above the Hudson River
Step outside for unparalleled views of the mighty Hudson River to the South and Mid-Hudson Bridge & Walkway over the Hudson to the North. This space is unmatched in the Hudson Valley,  especially during the warmer months. The panoramic glass wall can be removed for a one-of-a-kind outdoor dining experience when the weather allows. Also, if you are simply looking for a place to relax with a cold drink, the outdoor riverside bar offers the same great drink specials with breathtaking views. Renovations include rustic chandeliers, comfortable seating, and sound absorbing panels to allow for more relaxed conversation. This outdoor space is also available for larger events up to 100 guests.
A Prime Dining Experience
The interior isn't the only thing that was renovated. Shadows' Executive Chef Nick Brower spent countless hours developing a exquisite new menu to match the new direction and pair with the restaurants extensive wine program. Featuring USDA prime beef and fresh seafood, this new menu offers selections every guest will enjoy. Whether you are looking for Ahi Tuna Tartare or a simple crispy chicken sandwich, this menu is guaranteed to satisfy your taste buds.

Just in Time for the Summer Season
After dining, feel free to take a stroll down to the river and gaze upon the boats docked at Shadows Marina. You can even take a ride on Shadows One, a water taxi that travels down to the Newburgh Waterfront and back. Reservations are required, visit www.shadowsone.com for more information.
If you are a local resident or visiting Poughkeepsie for the first time, Shadows on the Hudson is without a doubt, a must visit location. Located at 176 Rinaldi Boulevard, next to The Grandview, Shadows is a wonderful place for a family meal, business lunch, and catered events. Visit www.shadowsonthehudson.com see their new menu and reserve your table online or give them a call at 845.486.9500.