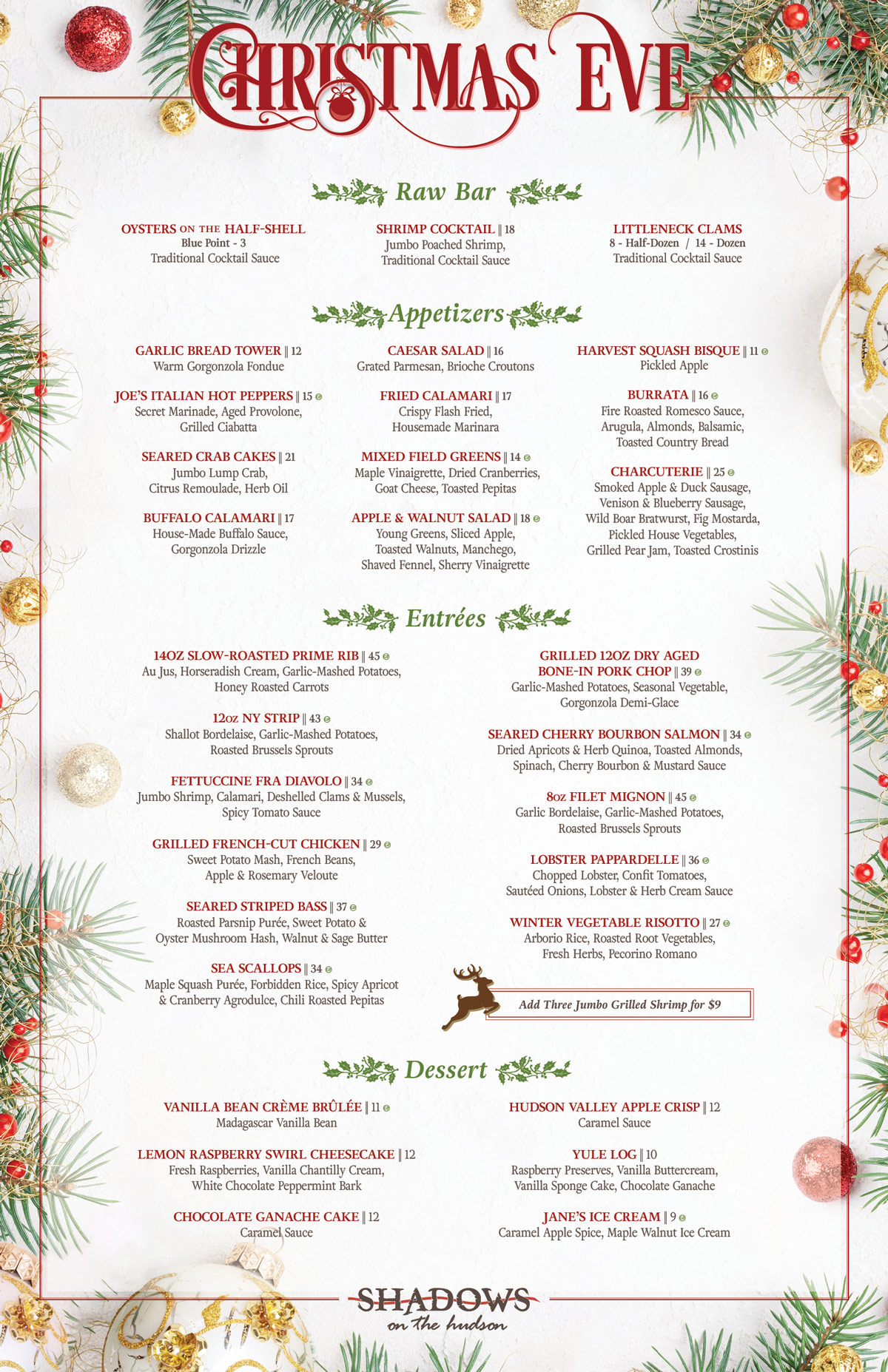 Christmas Eve Dinner
December 24 @ 11:30 am

-

6:00 pm
Bring your family good tidings this Christmas with a spectacular dining experience overlooking the Hudson River.
Make your reservations online or by calling 845-486-9500!
Menu
Raw Bar
Oysters on the Half-Shell
Blue Point – 3
Traditional Cocktail Sauce
Shrimp Cocktail || 18
Jumbo Poached Shrimp, Traditional Cocktail Sauce
Littleneck Clams
8 – Half-Dozen / 14 – Dozen
Traditional Cocktail Sauce
Appetizers
Garlic Bread Tower || 12
Warm Gorgonzola Fondue
Joe's Italian Hot Peppers || 15
Secret Marinade, Aged Provolone,
Grilled Ciabatta
Seared Crab Cakes || 21
Jumbo Lump Crab, Citrus Remoulade, Herb Oil
Buffalo Calamari || 17
House-Made Buffalo Sauce, Gorgonzola Drizzle
Caesar Salad || 16
Grated Parmesan, Brioche Croutons
Fried Calamari || 17
Crispy Flash Fried, Housemade Marinara
Mixed Field Greens || 14
Maple Vinaigrette, Dried Cranberries, Goat Cheese, Toasted Pepitas
Apple & Walnut Salad || 18
Young Greens, Sliced Apple, Toasted Walnuts, Manchego, Shaved Fennel, Sherry Vinaigrette
Harvest Squash Bisque || 11
Pickled Apple
Burrata || 16
Fire Roasted Romesco Sauce, Arugula, Almonds, Balsamic, Toasted Country Bread
Charcuterie || 25
Smoked Apple & Duck Sausage, Venison & Blueberry Sausage, Wild Boar Bratwurst, Fig Mostarda, Pickled House Vegetables, Grilled Pear Jam, Toasted Crostinis
Entrées
14oz Slow-Roasted Prime Rib || 45
Au Jus, Horseradish Cream, Garlic-Mashed Potatoes, Honey Roasted Carrots
12oz NY Strip || 43
Shallot Bordelaise, Garlic-Mashed Potatoes,
Roasted Brussels Sprouts
Fettuccine Fra Diavolo || 34
Jumbo Shrimp, Calamari, Deshelled Clams & Mussels, Spicy Tomato Sauce
Grilled French-Cut Chicken || 29
Sweet Potato Mash, French Beans,
Apple & Rosemary Veloute
Seared Striped Bass || 37
Roasted Parsnip Purée, Sweet Potato & Oyster Mushroom Hash, Walnut & Sage Butter
Sea Scallops || 34
Maple Squash Purée, Forbidden Rice, Spicy Apricot & Cranberry Agrodulce, Chili Roasted Pepitas
Grilled 12oz Dry Aged Bone-In Pork Chop || 39
Garlic-Mashed Potatoes, Seasonal Vegetable, Gorgonzola Demi-Glace
Seared Cherry Bourbon Salmon || 34
Dried Apricots & Herb Quinoa, Toasted Almonds, Spinach, Cherry Bourbon & Mustard Sauce
8oz Filet Mignon || 45
Garlic Bordelaise, Garlic-Mashed Potatoes, Roasted Brussels Sprouts
Lobster Pappardelle || 36
Chopped Lobster, Confit Tomatoes, Sautéed Onions, Lobster & Herb Cream Sauce
Winter Vegetable Risotto || 27
Arborio Rice, Roasted Root Vegetables, Fresh Herbs, Pecorino Romano
Add Three Jumbo Grilled Shrimp for $9
Dessert
Vanilla Bean Crème Brûlée || 11
Madagascar Vanilla Bean
Lemon Raspberry swirl cheesecake || 12
Fresh Raspberries, Vanilla Chantilly Cream, White Chocolate Peppermint Bark
Chocolate Ganache Cake || 12
Caramel Sauce
Hudson Valley Apple Crisp || 12
Caramel Sauce
Yule Log || 10
Raspberry Preserves, Vanilla Buttercream, Vanilla Sponge Cake, Chocolate Ganache
Jane's Ice Cream || 9
Caramel Apple Spice, Maple Walnut Ice Cream
Share This Story, Choose Your Platform!