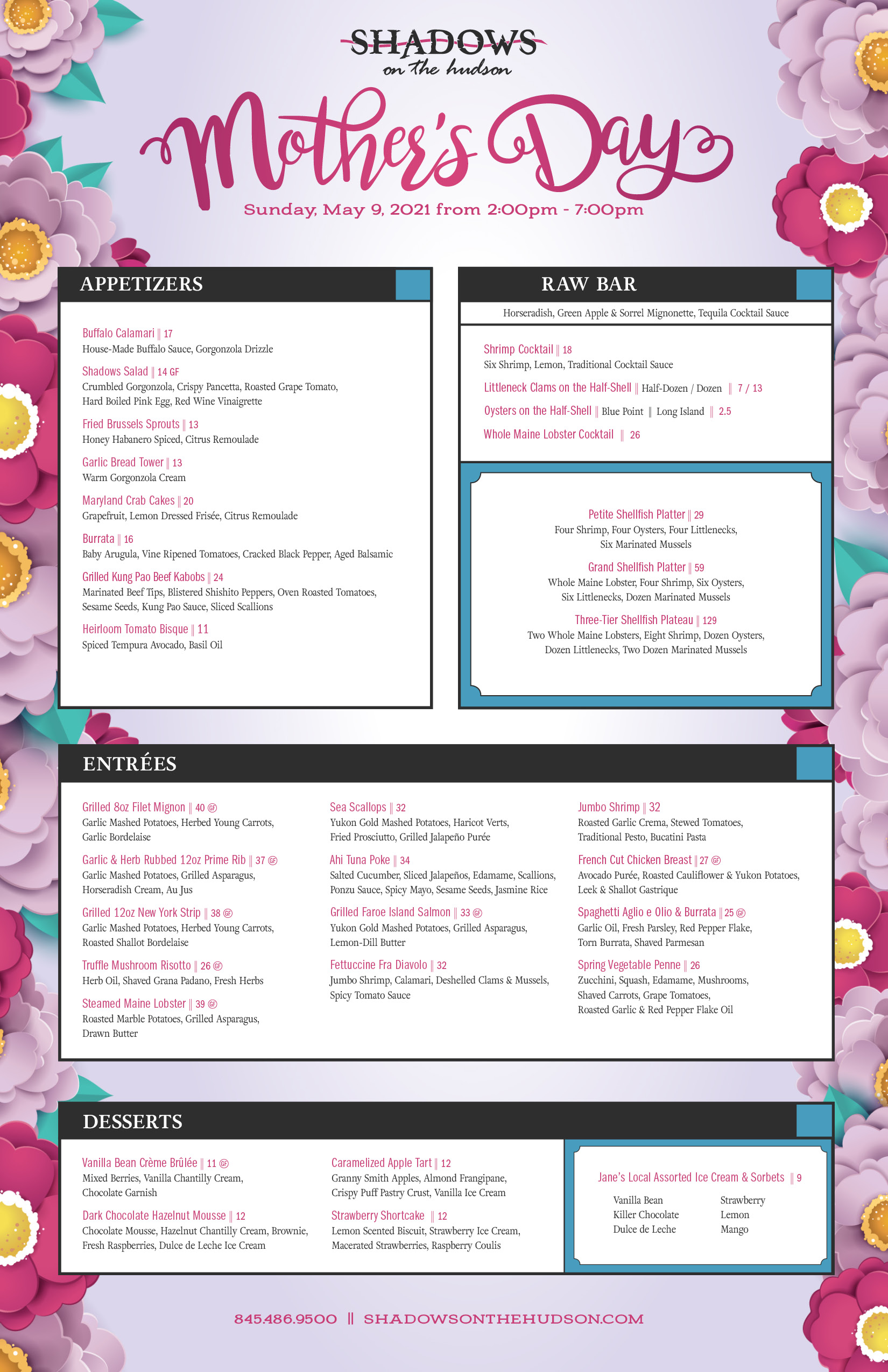 Mother's Day Dinner
May 9 @ 2:00 pm

-

7:00 pm
Celebrate Mother's Day with a relaxing dinner at Shadows on the Hudson in Poughkeepsie!
Offered Sunday, May 9, 2021 from 2:00pm – 7:00pm. Make your reservations online or by calling 845-486-9500 today.
APPETIZERS
Buffalo Calamari || 17
House-Made Buffalo Sauce, Gorgonzola Drizzle
Shadows Salad || 14 GF
Crumbled Gorgonzola, Crispy Pancetta, Roasted Grape Tomato, Hard Boiled Pink Egg, Red Wine Vinaigrette
Fried Brussels Sprouts || 13
Honey Habanero Spiced, Citrus Remoulade
Garlic Bread Tower || 13
Warm Gorgonzola Cream
Maryland Crab Cakes || 20
Grapefruit, Lemon Dressed Frisée, Citrus Remoulade
Burrata || 16
Baby Arugula, Vine Ripened Tomatoes, Cracked Black Pepper, Aged Balsamic
Grilled Kung Pao Beef Kabobs || 24
Marinated Beef Tips, Blistered Shishito Peppers, Oven Roasted Tomatoes, Sesame Seeds, Kung Pao Sauce, Sliced Scallions
Heirloom Tomato Bisque || 11
Spiced Tempura Avocado, Basil Oil
RAW BAR
Horseradish, Green Apple & Sorrel Mignonette, Tequila Cocktail Sauce
Shrimp Cocktail || 18
Six Shrimp, Lemon, Traditional Cocktail Sauce
Littleneck Clams on the Half-Shell || Half-Dozen / Dozen || 7 / 13
Oysters on the Half-Shell || Blue Point || Long Island || 2.5
Whole Maine Lobster Cocktail || 26
Petite Shellfish Platter || 29
Four Shrimp, Four Oysters, Four Littlenecks, Six Marinated Mussels
Grand Shellfish Platter || 59
Whole Maine Lobster, Four Shrimp, Six Oysters, Six Littlenecks, Dozen Marinated Mussels
Three-Tier Shellfish Plateau || 129
Two Whole Maine Lobsters, Eight Shrimp, Dozen Oysters, Dozen Littlenecks, Two Dozen Marinated Mussels
ENTRÉES
Grilled 8oz Filet Mignon || 40
Garlic Mashed Potatoes, Herbed Young Carrots, Garlic Bordelaise
Garlic & Herb Rubbed 12oz Prime Rib || 37
Garlic Mashed Potatoes, Grilled Asparagus, Horseradish Cream, Au Jus
Grilled 12oz New York Strip || 38
Garlic Mashed Potatoes, Herbed Young Carrots, Roasted Shallot Bordelaise
Truffle Mushroom Risotto || 26
Herb Oil, Shaved Grana Padano, Fresh Herbs
Steamed Maine Lobster || 39
Roasted Marble Potatoes, Grilled Asparagus, Drawn Butter
Sea Scallops || 32
Yukon Gold Mashed Potatoes, Haricot Verts, Fried Prosciutto, Grilled Jalapeño Purée
Ahi Tuna Poke || 34
Salted Cucumber, Sliced Jalapeños, Edamame, Scallions, Ponzu Sauce, Spicy Mayo, Sesame Seeds, Jasmine Rice
Grilled Faroe Island Salmon || 33
Yukon Gold Mashed Potatoes, Grilled Asparagus, Lemon-Dill Butter
Fettuccine Fra Diavolo || 32
Jumbo Shrimp, Calamari, Deshelled Clams & Mussels, Spicy Tomato Sauce
Jumbo Shrimp || 32
Roasted Garlic Crema, Stewed Tomatoes, Traditional Pesto, Bucatini Pasta
French Cut Chicken Breast || 27
Avocado Purée, Roasted Cauliflower & Yukon Potatoes, Leek & Shallot Gastrique
Spaghetti Aglio e Olio & Burrata || 25
Garlic Oil, Fresh Parsley, Red Pepper Flake, Torn Burrata, Shaved Parmesan
Spring Vegetable Penne || 26
Zucchini, Squash, Edamame, Mushrooms, Shaved Carrots, Grape Tomatoes, Roasted Garlic & Red Pepper Flake Oil
DESSERTS
Vanilla Bean Crème Brûlée || 11
Mixed Berries, Vanilla Chantilly Cream, Chocolate Garnish
Dark Chocolate Hazelnut Mousse || 12
Chocolate Mousse, Hazelnut Chantilly Cream, Brownie, Fresh Raspberries, Dulce de Leche Ice Cream
Caramelized Apple Tart || 12
Granny Smith Apples, Almond Frangipane, Crispy Puff Pastry Crust, Vanilla Ice Cream
Strawberry Shortcake  || 12
Lemon Scented Biscuit, Strawberry Ice Cream, Macerated Strawberries, Raspberry Coulis
Jane's Local Assorted Ice Cream & Sorbets  || 9
Vanilla Bean
Killer Chocolate
Dulce de Leche
Strawberry
Lemon
Mango
Share This Story, Choose Your Platform!