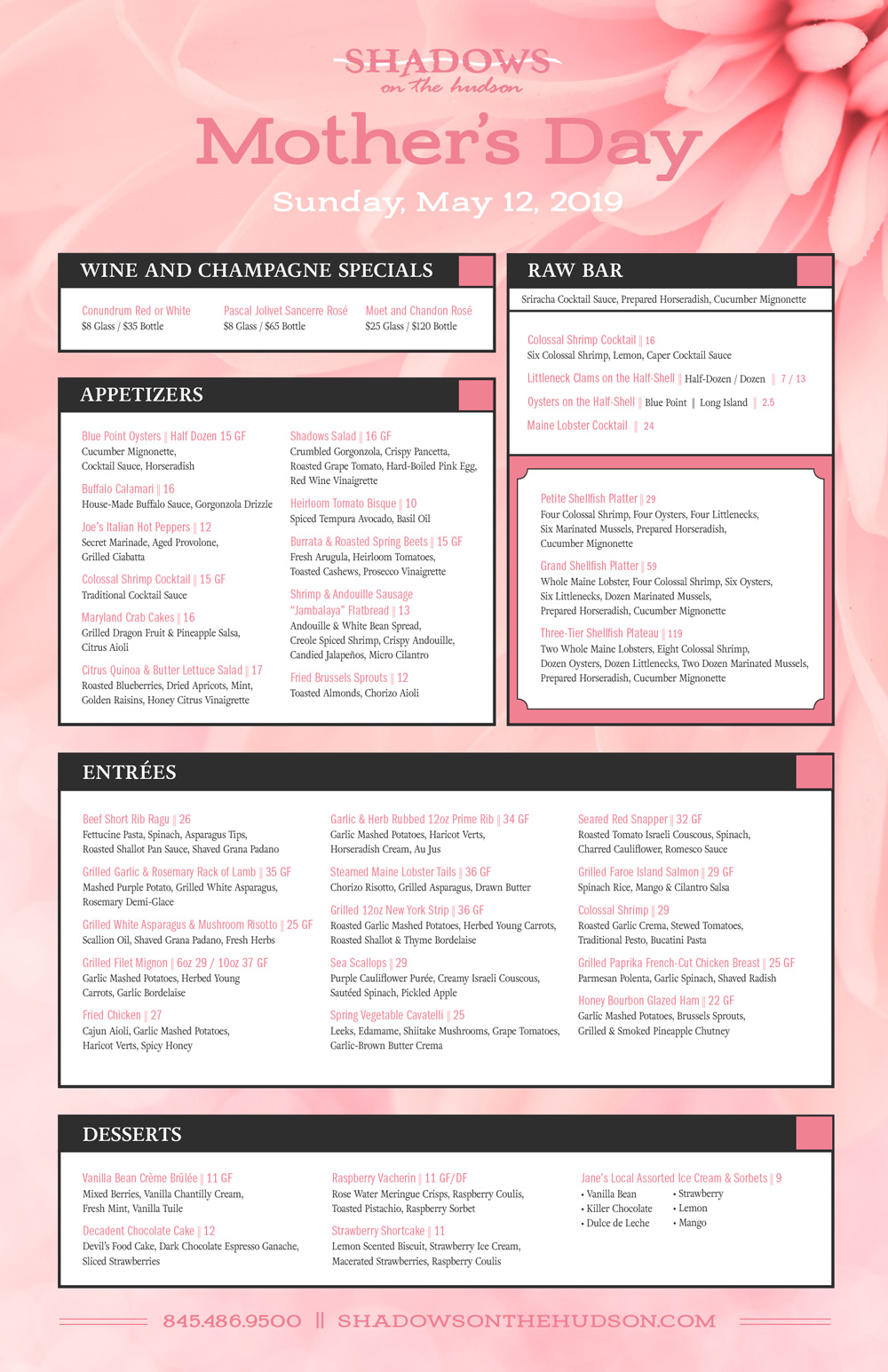 Treat Mom to a gourmet Mother's Day Dinner at Shadows on the Hudson.
Enjoy some creative dishes by our executive chef including a Grilled Garlic & Rosemary Rack of Lamb, Beef Short Rib Ragu and Honey Bourbon Glazed Ham. Complete your Mother's Day meal with decadent desserts including Raspberry Vacherin and a Vanilla Bean Crème Brûlée prepared by our in-house pastry team.
Call 845.486.9500 today to make your reservations.
---
Our Menu
Wine and Champagne Specials
Conundrum Red or White  ||  $8 Glass / $35 Bottle
Pascal Jolivet Sancerre Rosé ||  $8 Glass / $65 Bottle
Moet and Chandon Rosé  ||  $25 Glass / $120 Bottle
Raw Bar
Sriracha Cocktail Sauce, Prepared Horseradish, Cucumber Mignonette
Colossal Shrimp Cocktail || 16
Six Colossal Shrimp, Lemon, Caper Cocktail Sauce
Littleneck Clams on the Half-Shell || Half-Dozen / Dozen || 7 / 13
Oysters on the Half-Shell || Blue Point || Long Island || 2.5
Maine Lobster Cocktail || 24
Petite Shellfish Platter || 29
Four Colossal Shrimp, Four Oysters, Four Littlenecks, Six Marinated Mussels, Prepared Horseradish, Cucumber Mignonette
Grand Shellfish Platter || 59
Whole Maine Lobster, Four Colossal Shrimp, Six Oysters, Six Littlenecks, Dozen Marinated Mussels, Prepared Horseradish, Cucumber Mignonette
Three-Tier Shellfish Plateau || 119
Two Whole Maine Lobsters, Eight Colossal Shrimp, Dozen Oysters, Dozen Littlenecks, Two Dozen Marinated Mussels, Prepared Horseradish, Cucumber Mignonette
Appetizers
Blue Point Oysters || Half Dozen 15 GF
Cucumber Mignonette, Cocktail Sauce, Horseradish
Buffalo Calamari || 16
House-Made Buffalo Sauce, Gorgonzola Drizzle
Joe's Italian Hot Peppers || 12
Secret Marinade, Aged Provolone, Grilled Ciabatta
Colossal Shrimp Cocktail || 15 GF
Traditional Cocktail Sauce
Maryland Crab Cakes || 16
Grilled Dragon Fruit & Pineapple Salsa, Citrus Aioli
Citrus Quinoa & Butter Lettuce Salad || 17
Roasted Blueberries, Dried Apricots, Mint, Golden Raisins, Honey Citrus Vinaigrette
Shadows Salad || 16 GF
Crumbled Gorgonzola, Crispy Pancetta, Roasted Grape Tomato, Hard-Boiled Pink Egg, Red Wine Vinaigrette
Heirloom Tomato Bisque || 10
Spiced Tempura Avocado, Basil Oil
Burrata & Roasted Spring Beets || 15 GF
Fresh Arugula, Heirloom Tomatoes, Toasted Cashews, Prosecco VinaigretteShrimp & Andouille Sausage
"Jambalaya" Flatbread || 13
Andouille & White Bean Spread, Creole Spiced Shrimp, Crispy Andouille, Candied Jalapeños, Micro Cilantro
Fried Brussels Sprouts || 12
Toasted Almonds, Chorizo Aioli
Entrées
Beef Short Rib Ragu || 26
Fettucine Pasta, Spinach, Asparagus Tips, Roasted Shallot Pan Sauce, Shaved Grana Padano
Grilled Garlic & Rosemary Rack of Lamb || 35 GF
Mashed Purple Potato, Grilled White Asparagus, Rosemary Demi-Glace
Grilled White Asparagus & Mushroom Risotto || 25 GF
Scallion Oil, Shaved Grana Padano, Fresh Herbs
Grilled Filet Mignon || 6oz 29 / 10oz 37 GF
Garlic Mashed Potatoes, Herbed Young Carrots, Garlic Bordelaise
Fried Chicken || 27
Cajun Aioli, Garlic Mashed Potatoes, Haricot Verts, Spicy Honey
Garlic & Herb Rubbed 12oz Prime Rib || 34 GF
Garlic Mashed Potatoes, Haricot Verts, Horseradish Cream, Au Jus
Steamed Maine Lobster Tails || 36 GF
Chorizo Risotto, Grilled Asparagus, Drawn Butter
Grilled 12oz New York Strip || 36 GF
Roasted Garlic Mashed Potatoes, Herbed Young Carrots, Roasted Shallot & Thyme Bordelaise
Sea Scallops || 29
Purple Cauliflower Purée, Creamy Israeli Couscous, Sautéed Spinach, Pickled Apple
Spring Vegetable Cavatelli || 25
Leeks, Edamame, Shiitake Mushrooms, Grape Tomatoes, Garlic-Brown Butter Crema
Seared Red Snapper || 32 GF
Roasted Tomato Israeli Couscous, Spinach, Charred Cauliflower, Romesco Sauce
Grilled Faroe Island Salmon || 29 GF
Spinach Rice, Mango & Cilantro Salsa
Colossal Shrimp || 29
Roasted Garlic Crema, Stewed Tomatoes, Traditional Pesto, Bucatini Pasta
Grilled Paprika French-Cut Chicken Breast || 25 GF
Parmesan Polenta, Garlic Spinach, Shaved Radish
Honey Bourbon Glazed Ham || 22 GF
Garlic Mashed Potatoes, Brussels Sprouts, Grilled & Smoked Pineapple Chutney
Desserts
Vanilla Bean Crème Brûlée || 11 GF
Mixed Berries, Vanilla Chantilly Cream, Fresh Mint, Vanilla Tuile
Decadent Chocolate Cake || 12
Devil's Food Cake, Dark Chocolate Espresso Ganache, Sliced Strawberries
Raspberry Vacherin || 11 GF/DF
Rose Water Meringue Crisps, Raspberry Coulis, Toasted Pistachio, Raspberry Sorbet
Strawberry Shortcake || 11
Lemon Scented Biscuit, Strawberry Ice Cream, Macerated Strawberries, Raspberry Coulis
Jane's Local Assorted Ice Cream & Sorbets || 9
• Vanilla Bean
• Killer Chocolate
• Dulce de Leche
• Strawberry
• Lemon
• Mango